ULTRA SPORTS ROSE RACING TEAM
Team bike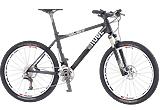 ROSE PSYCHO PATH
The team
Under the team name ULTRA SPORTS ROSE RACING TEAM, Steffen Thum and Simon Gegenheimer are now fighting for World Cup points at mountain bike races in the cross-country segment. We provide the two top athletes with individual competition bikes that are perfectly adapted to their needs.
Targets 2012
Both of them are already qualified for the 2012 Marathon World Championships and are looking forward to a successful season.
Team results 2011/2012:
Strongest team of the Marathon World Series 2011/2012
Number 1 of the UCI Marathon World Series
Number 5 of the UCI Marathon World Series
2nd place Marathon World Series, Lovran
German Sprint Champion
3rd place World Cup Sprint, Houffalize
3rd place World Cup Sprint, Offenburg
1st place Sprint Erzgebirge Bike Marathon
2nd place Spring Classic Münsingen
3rd place Albstadt Bike Marathon Sprint
1st place Trans Germany Sprint
Yellow Jersey Brasil-Ride
Stage victory Brasil-Ride
7 national team races
The riders: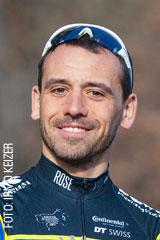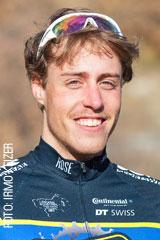 Steffen Thum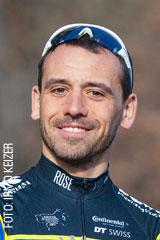 Date of birth: 13.07.1984
Place of residence: Warthelandstr. 68, 73431 Aalen
Education: A-levels
Studies: International Management
Cycling sports since: 1999
2006:

2nd place, U23 German Championship

42nd place, U23 World Championship, Rotorua

64th place, World Cup, Madrid

3rd place, overall standings U23 Bundesliga

2007:

13th place, European Championship Marathon, St. Wendel

1st place, Baden-Württemberg Championship Elite, Hausach

2nd place, Marathon, Münsingen

2008:

7th place, German Championship Elite, St. Märgen

5th place, overall standings Bundesliga

2nd place, overall standings, Bundesliga sprint

1st place, Bundesliga sprint Bad Salzdetfurth

3rd place, Trans Germany

2009:

2nd place Ruhrbike Festival

17th place Sunshine Cup
2011:
9th place, World Series, Grand Raid/Switzerland
12th place, World Series, Kirchberg/Austria
12th place, World Series, Frejus/France
12th place, World Series, Ornans/France
1st place, Brasil-Ride Prologue, Brazil
5th place, Black Forest Bike Marathon, Kirchzarten/Germany
3rd place, Erzgebirge Bike Marathon, Seiffen/Germany
9th place, Bundesliga Sprint, Heubach/Germany

2012
Number 1 Marathon World Series 2011/2012
2nd place, World Series, Lovran/Croatia
9th place, World Series, Graz/Austria
17th place, World Series, Laissac/France
2nd place, XC Battle, Kaprun/Austria
3rd place, Spring Marathon, Münsingen/Germany
6th place, UCI-C2, Karkloof-Howick/South Africa

Sportive career
I tried out diverse sports in my younger days, ranging from ski racing to show jumping and tennis tournaments. I was looking for an occupation, which would give me the opportunity to really reach my physical limits. Then, after I had won my first bike race (on a borrowed bike), I knew that I had found it. My body was full of adrenaline, every muscle hurt and I was absolutely happy at the same time. Everything went quite fast afterwards. Within three years, I was able to move on from the state cycling team to the youth national team. I became Germany's runner-up champion and one of Europe's top three marathon riders in the U23 age group. Nowadays, as a pro, my enthusiasm is at least as strong as it was when I was 15 years old and started cycling. I still love to max out my physical limits and to reach the targets I have set myself. In the future, these targets will be sportive, as well as organisational ones: building up the ULTRASPORTS ROSE RACINGTEAM for me means building up a pro team, which lives qualities like team spirit, mutual motivation and a sense of togetherness like no other team and which will realise fair, sportive success for all participants.
Now a few more casual questions and answers to liven up this portrait a little bit:
Favourite dish:
pizza (with hot salami, anchovies, olives and fresh tomatoes)
Favourite drink:
everything made of coffee beans
Favourite track:
the faster the better, like the one at the Madrid World Cup
Favourite training region:
Mallorca, which has everything I need for my training: mountains, flat roads, cafés and sun - and Simon as a training partner of course
Favourite training:
races are the best training
Toughest training:
everything in bad weather, I can't bear that, you could almost call me a fair weather biker
Sportive preferences:
workhorse – I am always well and strategically prepared and I never give up
Sportive weaknesses:
I guess I wasn't born with a sportive talent
What annoys me:
full jersey pockets, an absolute no go
About me:
optimistic, even in desperate situations
Absolutely not acceptable:
violence
I recharge my batteries when:
having a good dinner with my girlfriend
natisni
'naloži zemljevid